Hi everyone,
Welcome back!  How are you?  BDH and Little Buddha can't stop talking about how great the Clutter Tree looks, and I'm not about to argue.  For those of you who weren't here last year (welcome again, by the way), there was someone who wanted to cut the tree down, but we fought like hell, and it ended up being pruned instead of removed.  Given a choice between a skinnier tree, and no tree, we'll pick skinnier every time.  This place just wouldn't be the same without our beloved tree.  Anyway, the leaves are popping, and the staff is happy.  Of course, we're also pleased because we have coffee.  There's a fresh pot ready to go, so help yourself to a nice medium DD, and let's clear out some Thursday Clutter.
We've said before that we wouldn't be surprised to hear about any entertainer or professional athlete being accused of sexual misconduct.  However, it's still disappointing to find out that new Detroit Lions head coach Matt Patricia and another man were charged with aggravated sexual assault in 1996.  The men were indicted, and a trial was scheduled, but the alleged victim decided she couldn't continue with the case.  Since there was no trial, Patricia is legally innocent, but this news will hang over him moving forward, and it's unclear what this will mean for his career now that the information is out in public. 
It was tense at the end, but the Boston Celtics beat the Philadelphia 76ers 114-112 to win their Eastern Conference semifinal series last night.  That means it's time for the C's to once again face LeBron James and the Cleveland Cavaliers.  Taking on James is daunting enough, and to do it with out the team's two best players (Kyrie Irving and Gordon Haywood) makes it even tougher.  However, apparently no one told this team they weren't supposed to get this far in the playoffs without those guys, and with Brad Stevens as head coach, we wouldn't bet against anything.  The series starts in Boston on Sunday.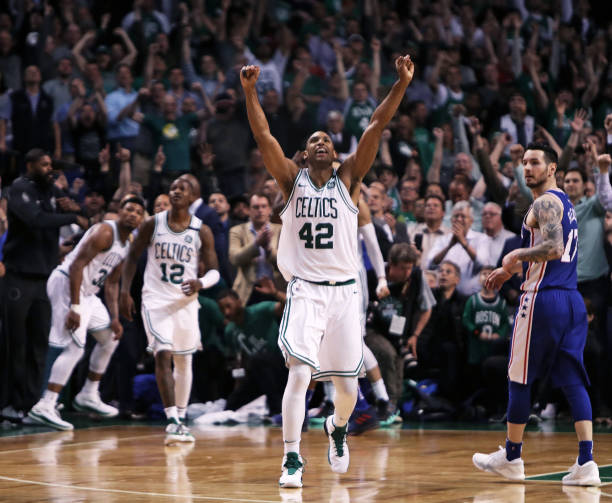 How far can this team go? (pic via gettyimages.com)
The Boston Red Sox fell 9-6 to the New York Yankees last night when Craig Kimbrel couldn't get a six out save.  The loss means that Boston is now a game out of first place behind the red-hot Yankees.  It's a good thing there's still 75% of the season to go, though we expect Boston sports radio shows to act like New York is one game away from clinching the division.    Eduardo Rodriguez takes the mound for Boston tonight as the Sox try to avoid being swept. 
John McCain is urging the Senate to vote against Gina Haspel's nomination to lead the CIA because of her past involvement with torture techniques and her refusal to disavow that kind of immoral activity.  This is certainly one area where the former Vietnam POW knows of what he speaks.  However, you could go broke quickly betting on this Senate to do the morally right thing.
Capital punishment is in the news in the New England region.  The New Hampshire Legislature voted to overturn the state's death penalty law, but Governor Chris Sununu says he'll veto the bill.  Meanwhile, Massachusetts Governor Charlie Baker is talking about filing a bill to impose the penalty on people who kill police officers.  State-sanctioned murder is a fail on every level.  It is a stain on our souls, it's not a deterrent, and it can't be implemented without bias or error.  We urge both governors to reverse course.
The Consumer Financial Protection Bureau's acting director, Mick Mulvaney apparently doesn't see why students might need help fighting shady loan practices.  After all, it's a good life lesson to find out that you're going to be ripped off at every possible opportunity.  Plus, young workers who are buried in debt are more submissive employees who are willing to put up with more garbage in the workplace because they need the money, and that's always good news for management.
Does anyone need to discuss last night's Chicago P.D. season finale?  No (detailed) spoilers, but we did not see the cast change coming, and hopefully the scene at the end was the end of that particular story, because it's time to move on from that fight.  Have we said too much?  Let's move on...
We could get into seeing Bigger, the upcoming movie about bodybuilding legends Joe and Ben Weider...although it also might be something to catch on cable.
Okay kids, that's going to do it for now.  Let's close things out with Train and, "Drops of Jupiter," for today's, "Song of the Day."
Thanks for stopping by, everyone.  It was great to see you, as always.  BDH and Little Buddha want you to know that you're welcome to come back tonight if you want to watch the Sox - Yankees game or just talk about how great the Clutter Tree looks.  Otherwise, enjoy the rest of your day, be good, and we'll catch up with you again soon.  Until next time, that's today's Clearing out the Clutter, and we are outta here.